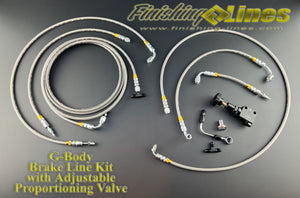 Finishing Lines
G-Body Brake Line Kit With Adjustable Proportioning Valve - For Rear Disc Brake Setups
Regular price
$494.99
$0.00
Unit price
per
This General Motors G-Body brake line kit allows you to re-plumb all of the factory hard line on the chassis with our braided flex hose materials plus add an adjustable proportioning valve to the system to eliminate the OEM valve.
If you want the added adjustability for your rear brake bias or just simply want to replace your old OEM hard lines with a beautiful color coordinated setup this kit is for you!

Supplied components with this kit replace every brake line and hose on the chassis except for the front caliper hoses (see other product listings for front caliper hose offerings).
This setup is for rear disc brake systems only. If you have rear drum brakes please see alternate product listing.
These hose sets are constructed from a Teflon inner liner followed by a stainless braided reinforcement and finished off with a clear or colored poly coating for abrasion resistance and great looks.
All standard Finishing Lines color combinations are available!
Please allow 1-3 days for shipment.
---