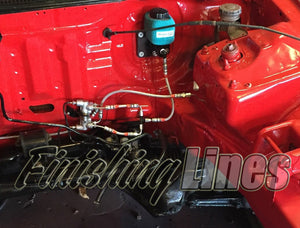 Finishing Lines
EG/DC Mini Tuck brake line kit (brake booster deleted setup)
Regular price
$274.99
$0.00
Unit price
per
Finishing Lines EG Civic/DC Integra Mini Tuck Brake Line Kit for brake booster deleted setups.
This brake line kit is for those looking to do some minor tidying up of the engine bay brake components.
Relocates the prop valve within the engine bay by moving its location down low near the subframe/steering rack. If you are wanting to clean up the look of your firewall, but you are looking for a cost-effective kit with an easier installation process than our "full tuck" kits, then this is for you.

Designed for use on the "EG

" chassis 92-95 Civic and "DC" chassis 94-01 Integra with a brake booster delete and an aftermarket single outlet master cylinder (Wilwood, Tilton, etc). Brake booster delete kit is not included with this product, see other product listings for purchase of brake booster delete kits.




This is not for use with Honed Developments booster delete kit as it uses a dual outlet OEM style master cylinder. If you need to accommodate a Honed setup, please email us at Sales@Finishing-Lines.com.

Our Mini-Tuck brake line kit includes the following;
Three stainless braided hoses and fittings to run from the master cylinder to the prop valve.

Two unique combination stainless braided hoses with custom formed hard line ends for routing from the prop valve to the factory front caliper hoses.

Two custom formed hard lines for adapting to the stock rear hard lines in the engine bay (compression fittings included).
Please note that this kit requires cutting of the factory rear hard lines in the engine bay. No flaring is necessary as they will be reconnected with compression fittings. 

If you require complete under car replacement lines, please email us at Sales@Finishing-Lines.com for a custom request quote.



Brake line kits are made to order in your choice of color combo. Please allow 1-3 business days for shipment.
Brake hoses consist of a PTFE core, followed by a stainless braided covering, and then finished with a poly outer coating for abrasion resistance to painted surfaces.
---