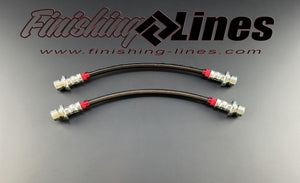 Finishing Lines
EG Rear Drum Hose Pair
Regular price
$79.99
$0.00
Unit price
per
Finishing Lines is now offering replacement rear drum hose pairs for EG Civic chassis!
If you are searching for a strong braided replacement for your factory rubber drum hoses then this is for you. These rear drum hose pairs are constructed from a PTFE inner liner followed by a stainless braided reinforcement and finished off with a clear or colored poly coating for abrasion resistance and great looks.
All standard Finishing Lines color combinations are available!
This set is a direct replacement for rear drum brake equipped vehicles for the 92-95 EG Civic. All brake hoses are made to order in your choice of color combo. Please allow 1-3 days for shipment.
---