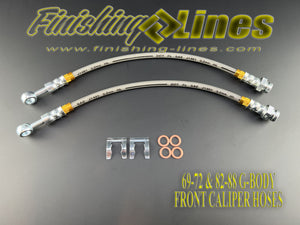 Finishing Lines
G-Body Front Caliper Hose Pair - Extended Length
Regular price
$84.99
$0.00
Unit price
per
This pair of hoses replaces both front caliper hoses for the General Motors G-Body chassis offered from 1969-1972 and 1982-1988 in varying models such as Grand Prix, Bonneville, El Camino, Monte Carlo, Malibu, Caballero, Cutlass Supreme and Buick Regal.
This set is extended 2" for added suspension travel commonly needed for hydraulics. If you need longer than 2" added length we can accommodate this as well! Please email us at Sales@Finishing-Lines.com and we would be happy to help with the special request!
These hose sets are constructed from a Teflon inner liner followed by a stainless braided reinforcement and finished off with a clear or colored poly coating for abrasion resistance and great looks.
All standard Finishing Lines color combinations are available!
Please allow 1-3 days for shipment.
---