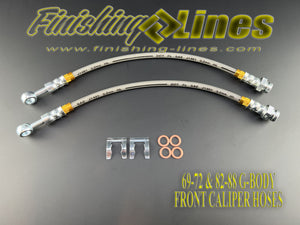 Finishing Lines
G-Body Front Caliper Hose Pair - OEM Length
Regular price
$79.99
$0.00
Unit price
per
This pair of hoses replaces both front caliper hoses for the General Motors G-Body chassis offered from 1969-1972 and 1982-1988 in varying models such as Grand Prix, Bonneville, El Camino, Monte Carlo, Malibu, Caballero, Cutlass Supreme and Buick Regal.
These hose sets are constructed from a Teflon inner liner followed by a stainless braided reinforcement and finished off with a clear or colored poly coating for abrasion resistance and great looks.
All standard Finishing Lines color combinations are available!
Please allow 1-3 days for shipment.
---